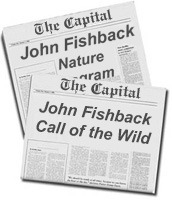 Thursday, January 22, 2009
Making History Come Alive
Rockledge students use art to learn about history of American Indians
Maryland By Letita M. Aaron, Special to The Star (Prince Georges Gazette)
Instead of reading a book or watching a video about American Indian tribal histories, Michael Purdy's fifth grade class spent a recent Friday morning in Rockledge Elementary School's media center drawing their own American Indian stories on brown craft paper hides.
Later, students at the Bowie school will paint the stories using plants, rocks and other organic materials. When the artist leading the activity, outdoorsman and naturalist John Fishback of Crownsville, offered duck poop as a way to make "a beautiful blue color," a chorus of "Eww!" rose from the class. Luckily for the students, and the rest of the school, the class will use blueberries for blue paint instead.
Fishback, 44, is one of two artists-in-residence from the Training Artist Institute to work with Rockledge classes this semester. He and mixed media artist Marcie Wolf-Hubbard, 47, of Silver Spring helped students express themselves and gave teachers a tool to assess learning. Wolf-Hubbard finished her work at the school last week. Fishback will finish this week. As part of the institute, artists develop lesson plans for use during future residencies, network with other artists and learn to collaborate with teachers, said TAI visual arts staffer Maria Barbosa. TAI is an initiative of the Arts Education in Maryland Schools Alliance, Young Audiences/Arts for Learning Maryland and the Maryland State Arts Council. Media Specialist Mary Beth Bauernschub, who is also affiliated with TAI, said she chose the artists based on what each could bring to the topics being studied at the school. Fifth-graders study American Indians, a perfect match for Fishback. As the school's fourth-graders study all things Maryland, Wolf-Hubbard's George Washington collage made her an instant choice to teach a class to create visual biographies of famous Marylanders such as Jim Henson, Sojourner Truth and Michael Phelps. "We're really excited that the artists are here and the students get an opportunity to work with them," Bauernschub said. "It's a different way for them to learn and express their understanding." Peggy Price, the lead teacher of the fourth grade class working with Wolf-Hubbard, said working with the artists has allowed her students to tie together all the ways they learn and represent it visually. "This is perfect in that we're learning about the Marylander and their effect on Maryland and writing about, reading about, and researching the person," Price said. "Then we get to tie it all together with art.
We get to all the kids whether they're readers, writers, or the ones who have to do it physically." Other artists, including a group of drummers and a shadow puppeteer, will also conduct residencies at Rockledge this year, Bauernschub said. The finished projects will go on display throughout the school. The fifth-graders' buffalo and deer hide stories will hang in the school's cafeteria and the fourth-graders' collages will go in display cases. "There are talks that they're going to go someplace else," Bauernschub said of the collages. "We'll see."
Send your name and address to be included on John's mailing list. You'll hear about all of John's camps, activities, and special events.

Email John: fishbacknature@verizon.net