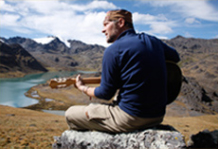 John sat down with SurvivorMan, Les Stroud during his recent trip to Annapolis for the Ticked-Off Music Fest a U.S. concert series dedicated to the prevention, awareness and cure of Lyme disease and other tick-borne illnesses that have become the fastest-growing infectious diseases in the country.
Les Stroud (Survivor Man) Les Stroud is a popular television personality who you might have seen on the Discovery channel. His award-winning "Survivor Man" series has given birth to a long line of copycat survival shows. The most compelling thing about Survivor Man is that he does all his surviving and filming alone. He often carries 80 pounds of camera gear on his adventure while also doing the extra legwork to make the show film well.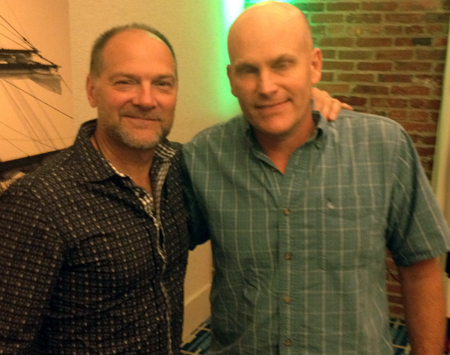 Early on the Friday morning before Labor Day, I had the pleasure of driving Les to the airport. He was flying back to his home near Toronto after performing at the Annapolis Lyme Festival. He rocked out with guitar, harmonica and voice while bringing awareness to Lyme disease. Les is an authentic, down to earth hero of mine. I asked him questions like where he would go to survive if the poop hit the fan. Les answered with the Canadian wilderness north country. He spent an entire year living there with his ex-wife and made a documentary about this experience. Les asked me where the wilderness areas were in Maryland and I told him my favorite are the marshes of the lower eastern shore. He wondered about all the trees lining the highways if there is wilderness beyond these trees. I sadly informed him how there were houses behind almost all these tree lined roads. We talked about our shared interest in connecting people with the earth. During our ride, we discussed some of the popular television survivalists whose shows are less than authentic. He said that these guys undermine real survivalists. They set up their shows according to the producers' wishes. For example, food is waiting for them when the scene is over. A crew follows them with gear they may need. Things are placed into the environment to help with the storyline. Les mentioned how producers at one point demanded he manipulate his survival scenes to create an image they felt the viewer wanted to see. Les refused the big money and stayed true to his idea of being authentic and as realistic as possible in his productions.
He asked me about my Lyme disease and what I was doing to get better. I mentioned that it's been a long battle and I am doing many things to recover, i.e. eating organic fruits and vegetables, reducing stress with yoga, acupuncture, saunas, and detox baths, and taking antibiotics, vitamins, and supplements. I explained how Lyme got its name. There is a biological warfare research center called Plum Island which is across the river from Lyme, Connecticut. Here they manipulated ticks, Lyme and other pathogens for the purposes of warfare. These pathogens eventually found their way to Lyme and the rest of the U.S. where they wreaked havoc on the general population. Les responded with "oooh, a conspiracy theory." Hearing this made me giggle inside because he has a popular series about Bigfoot. I asked Les about the most difficult primitive fire making device. Fire plow was his response. I commented on all the shows and how he must be doing well financially. He basically said, actually I'm not rich and have struggled with money at times.
We talked about a famous survivalist Tom Brown who had a huge influence on my life. He knew important details of this man which helped me reflect on my life and viewpoint. Les is constantly on the go making Survivor Man and other shows while playing music with famous musicians. Talking shop with a fellow wilderness enthusiast, somebody I have great respect for and one of the most influential wilderness spokesman was one of the highlights of my year. It was a big boost to my motivation to continue in my wilderness awareness work. I gave him a tobacco leaf and thanked him for his wisdom. Tobacco is the traditional Native American way to show appreciation and give thanks.